​j crew swiss-dot fontana dress {thrifted} & j crew argyle cardigan {thrifted}
forever 21 belt · predictions karmen heels
oct 14th / i have been buying too much stuff online lately so i've been foregoing my usual goodwill trips, but putting together outfits like this makes me want to jump in the car right now and head over to my favorite GW because who knows what's out there that i may be missing? i realize that isn't the best mentality to have when thrifting as you're more prone to pick up items you feel only so-so about, but i definitely have been missing the thrill of the thrifting hunt recently. however, this dress is reaching it's third year anniversary of being in my possession and i still love it just as much as when i first thrifted it! i kind of waver with my attraction toward argyle, but in a fun orange print like this, what's not to love? i first had it paired with a plain, tan skirt but then remembered i had thought about pairing it with this dress before i fell asleep last night - i'm glad i remembered! hopefully both of these pieces will stick around and still have relevance in my closet for years to come.
also, i will post about this in more detail mid-week, but i wanted to give you all a head's up that my friend marissa from
the modern austen
and i are going to be hosting another pantone-inspired color challenge next week. we had such a great time when we did this in
the spring
and now pantone has given us new colors to look forward to wearing this fall! we'll start next
monday, october 21st
but i'll give you a peak at the graphic in case you want to start planning some outfits now. again, stay tuned for more information on our blogs about how the link-up will work! we're excited to have you join us!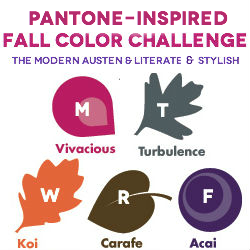 get the look
: similar
dress
/ similar
cardigan
/ similar
belt
/ exact
heels